Philippine-American Academy of Science and Engineering (PAASE)
Agham at Kaalaman para sa Bayan
S&T Volunteerism: Outreach to Philippine Regions!
Fireside Chats Series: PAASE on Philippine Innovation
Engineering a Feasible Innovation Ecosystem in Philippine SUCs: Challenges, Strategies and Opportunies
Episode 51: The 21st Century Medical Knowledge Center
Fireside Chats Series: PAASE on Philippine Innovation
Transformative Educational Approach in Enhancing Science Learning Through Videos and AI Tools
Fireside Chats Series: PAASE on Philippine Innovation
AKYAT Pilipinas: Angkop sa Kalawakan, Yari at Tatak
Can we Build for Outer Space in the Philippines?
Episode 50: Chatbots, Generative AI, and Scholarly Manuscripts: World Association of Medical Editors Recommendations on Chatbots and Generative Artificial Intelligence in Relation to Scholarly Publication
Episode 49: Philippine Innovation Priorities and Issues
Episode 48: Aling Wikang Panturo para sa Agham at Matematika?: A Conversation on the Issue of Medium of Instruction in Science & Math
Episode 47: Model Internationalization Programs of HEIs: Towards Inclusivity, Sustainability, and Greater Impact
Episode 46: Sowing the Seeds: AFSA's Commitment to Support the Filipinx Community in the US
Episode 45: UPRI Efforts towards Resilience Building
Episode 44: GradMAP: Helping Filipino Scientists Pursue Graduate Studies in STEM
Episode 43: Celebratory Testimonial for Secretary-Designates Alfredo E. Pascual and Arsenio M. Balisacan
Episode 42: Mandanas Ruling
Episode 41: Conversation about the Presidential Elections: Results and Consequences
(VIDEO NOT AVAILABLE)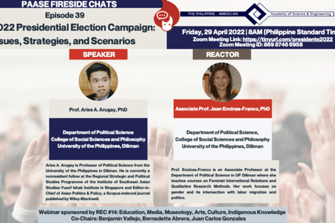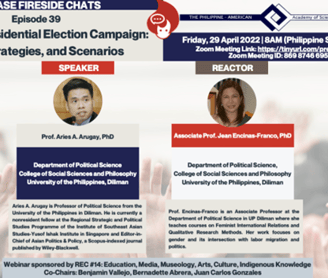 Episode 40: Biodiversity Research Initiatives in Mindanao: Linking with Stakeholders for Conservation & Tourism Development
Episode 39: Presidential Election Campaign Issues, Strategies, & Scenarios
Episode 38: What's New in Rice Research?
Episode 37B: Induction of New PAASE Members Session 2
Episode 37A: Induction of New PAASE Members Session 1
Episode 36: Groundwater: Making the Invisible Visible
Episode 35: Aspiring to Inspire: Celebrating the Youth and Women in STEM
Episode 34: Global Women's Breakfast 2022: Empowering Diversity in Science
Special Episode: 2021 PAASE Thanksgiving-Christmas Celebration featuring Special Testimonial recognizing significant contributions of Former President Gloria Macapagal-Arroyo to Science and Technology Development in the country
Episode 33: Publishing in PAASE Journal SciEnggJ Made Easy by Clarivate's ScholarOne
Episode 32: The Science of Emergency Care
Episode 31: How to "TECH STARTUP" Proudly Made in the Philippines by Filipinos for Filipinos
Episode 30: Publishing in PAASE Journal SciEnggJ Made Easy by Clarivate's ScholarOne
Episode 29: iSTART@Work in Leyte: Ahead with SUCs
Episode 28: Lifting the Bottom Half: Alternative Coconut Product Development and Intercropping
Episode 27: Why Bring 'Future Earth' to LGUs and Communities?
Episode 26: Town Hall Meeting with PAASE Leaders (Officers and Board Members): Let PAASE Members and Friends Be Heard!
Episode 25: Journal Article Discussion of 2015 PLOS: Imperfect Vaccination Can Enhance Transmission of Highly Virulent Pathogens: The Case of the DNA Virus MDV Causing Marek's Disease in Poultry
Episode 24: Science of COVID Modelling: Problems and Prospects
Episode 23: "SciEnggJ" - PAASE's Official Journal: Showcasing the Work of Filipino Scientists Here and Abroad!
Episode 22: Rina Lopez of ABS-CBN Knowledge Channel: On Early Youth Learning and Education During COVID and How PAASE Can Help
Episode 21: Giving Value to Waste: UpCycling through 3D Printing and Additive Manufacturing
Episode 20: Finding a Way Forward Amidst the PROs and CONs of Ivermectin for COVID-19 Dr. Tess Lawrie, MBBCh, PhD presents meta-analysis of Ivermectin studies
Episode 19: IVERMECTIN: PROS and CONS in LIGHT OF COVID in the Philippines
Episode 18: NS Emil Q. Javier's LIFTING THE BOTTOM HALF: A REPRISE
Episode 17: Bridging Journalists and Scientists during COVID
Episode 16: Towards Climate-Resilient Communities
Episode 15: Bakuna and All Matters COVID: Let's Hear It from Our MDs and DVMs
Episode 14: SAVE THE TALENT: STEM Education Initiatives at the Secondary Level
Episode 13: Notes from the Trenches: Vaccine and Pharmaceutical Sourcing
Episode 12: Let's Hear It from DOST Leaders! How PAASE Can Help "PH Science for the People"
Episode 11: Let's Hear It from NAST Leaders! PAASE Contributions to STEM Education and Other Priorities in the NAST S&T Foresight Plan
Episode 10: Attracting and Mentoring #NextGen PH Research Leaders
Episode 9: Let's Hear It From Industry and Innovation Leaders!
Episode 8: Let's Hear It from PH Industry Leaders!
Episode 7: AIM's Star MSIB Grads Pitch Their Capstone Innovation Projects & Start-ups
Episode 6: Trailblazing Women Presidents of Higher Education Institutions
Episode 5: Addressing Hunger and Malnutrition During the Pandemic
Episode 4: Publishing PAASE REC-based Special Issues in the Online Journal PSL
Episode 3: STEM Education - Early On!
Episode 2: A Robust S&T Human Capital Critical for Economic Recovery & Resilience
Episode 1: STRIDE MOA Signing